WorkFirst NJ (NJ's Temporary Assistance for Needy Families – TANF)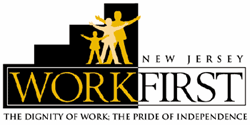 The state's welfare reform program, WorkFirst NJ, emphasizes work as the first step toward building a new life and a brighter future. Our goal is to help people get off welfare, secure employment and become self-sufficient, through job training, education and work activities.
Eligibility is established by the County Board of Social Services or the Department of Labor. Activities are assigned by either a Career Development Counselor or an Income Maintenance Worker. An activity referral is then sent to Community Child Care Solutions. Former Work First NJ participants receive subsidized child care for up to two years after starting work. Those clients make a small co-payment based on family size and income.
WFNJ provides temporary cash assistance and many other support services to families through the Temporary Assistance for Needy Families (TANF)program. A detailed description of the TANF Program is available in the New Jersey State Plan for Temporary Assistance for Needy Families (TANF) FFY 2015-17 –  (pdf)
New Jersey is one of only a few states that also provides cash benefits and support services to individuals and couples with no dependent children, through our General Assistance (GA) program.
Services under WFNJ are limited to five years. After that, clients may be eligible for the Supportive Assistance to Individuals and Families (SAIF) program.